RE18RC18: Property Assessments, Valuation, and Taxation
Instructor: Brad Roberts
Sponsored and Moderated by: Cheryll LeBlanc
Special Guest: Samuel E. Konieczny, Worcester City Assessor
Register HERE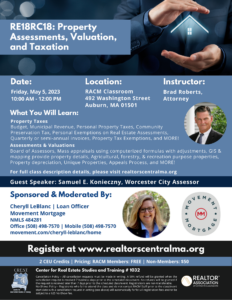 What You Will Learn:

Property Taxes
Budget, Municipal Revenue, Personal Property Taxes, Community Preservation Tax, Personal Exemptions on Real Estate Assessments, Quarterly or semi-annual invoices, Property Tax Exemptions, and MORE!
Assessments
Board of Assessors, Mass appraisals using computerized formulas with adjustments, GIS & mapping provide property details, Agricultural, forestry, & recreation purpose properties, Property depreciation, Unique Properties, Appeals Processes, and MORE!
About the Guest Speaker: Samuel E. Konieczny has served as the City Assessor for the City of Worcester since April 2020 and is responsible for the valuation of all Real Property and business' tangible Personal Property within the City of Worcester. Over the last 12 years of his career within the assessing industry, he has worked in both the public and private sectors – first as a field appraiser for Mayflower Valuation Ltd. and then as the Chief Assessor for Agawam.
He has served on numerous boards, including Chairman of the Board of Assessors in Cummington, MA, Chairman of the Zoning Sub-Committee in Agawam, Executive Board Member for the Hampden/Hampshire County Assessor's Association, and the Education Committee for the Massachusetts Association of Assessing Officers.  He is a member of the International Association of Assessing Officers (IAAO) and the Massachusetts Association of Assessing Officers (MAAO).
Samuel has a bachelor's degree from the Isenberg School of Management – University of Massachusetts-Amherst, as well as his MAA from the Massachusetts Association of Assessing Officers, (MAAO).
He is a proud father, and avid bass fisherman, enjoys all things historical, and is passionate about making his assessment values as fair and equitable as possible for his taxpayers.
Cancellation Policy – All cancellation requests must be made in writing. A 50% refund will be granted when the cancellation request is received 7 business days prior to the scheduled class/event. No refunds will be granted if the request is received later than 7 days prior to the scheduled class/event. Registrations are non-transferable.
No-Shows Policy – Registrants who fail to attend the class and do not contact RACM Staff prior to the class/event start date with a cancellation request in writing (see above) will automatically forfeit all registration fees and/or be subject to a $25 No-Show fee.
CREST Classroom Rules and Regulations – 
All cellular phones must be turned off or in silent mode so as not to disturb the class.
No more than 10 minutes of each class may be missed in order to still receive CEU credits. Late arrivals will not be given CEU credits for the class.
The Sign In and Sign Out sheets for each class attended must be signed to receive CEU credits.