Register HERE
We are thrilled to offer the GREEN® DESIGNATION!
This is a two-day Designation Course: Tuesday, June 20 & Wednesday, June 21, 2023
9:00 AM – 5:00 PM | RACM Classroom, 492 Washington Street, Auburn
With National Instructor: Craig Foley
Learn more about the designation HERE
Cancellation Policy – All cancellation requests must be made in writing. A 50% refund will be granted when the cancellation request is received 7 business days prior to the scheduled event. No refunds will be granted if the request is received later than 7 days prior to the scheduled event. Registrations are non-transferrable.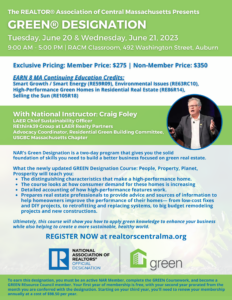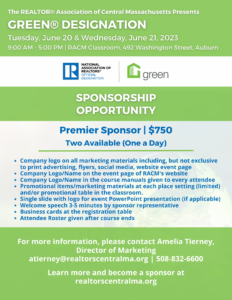 To earn this designation, you must be an active NAR Member, complete the GREEN Coursework, and become a GREEN REsource Council member. Your first year of membership is free, with your second year prorated from the month you are conferred with the designation. Starting on your third year, you'll need to renew your membership annually at a cost of $98.50 per year.