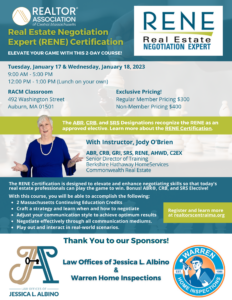 The ABR, CRB, and SRS Designations recognize the RENE as an approved elective. Learn more about the RENE Certification.
Please register HERE
Check out Jody O'Brien's video on RENE 
Top Five Reasons to Take the RENE Certification!
5 – INCREASE your knowledge! Know WHEN and HOW to negotiate, and craft a strategy you can use daily.
4 – LEARN how to NEGOTIATE effectively through all communication mediums.
3 – REVAMP and ELEVATE your communication style to achieve optimum results.
2 – EARN 2 MA Continuing Education Credits.
1 – ACCOMPLISH! This is an approved elective for ABR, CRB, and SRS Designations – RACM will be offering more designations this year, and this will be a great way to check off your Designation to-do list!
Cancellation Policy – PLEASE READ
All cancellation requests must be made in writing. A 50% refund will be granted when the cancellation request is received 7 business days prior to the scheduled class/event. No refunds will be granted if the request is received later than 7 days prior to the scheduled class/event. Registrations are non-transferable.
No-Shows Policy – Registrants who fail to attend the class and do not contact RACM Staff prior to the class/event start date with a cancellation request in writing (see above) will automatically forfeit all registration fees and/or be subject to a $25 No-Show fee.
CREST Classroom Rules and Regulations:
All cellular phones must be turned off or on silent mode so as not to disturb the class.
No more than 10 minutes of each class may be missed in order to still receive CEU credits. Late arrivals will not be given CEU credits for the class.
Both the Sign In and Sign Out sheets for each class attended must be signed in order to receive CEU credits.