RE26R20 – The Residential Appraisal Process for Non-Appraisers | Tuesday, May 9, 2023 | 10:00 am – 12:00 pm
Instructor: Brad Roberts
Guest Expert: Maria Hopkins, Appraiser
2 Continuing Education Credits
Register HERE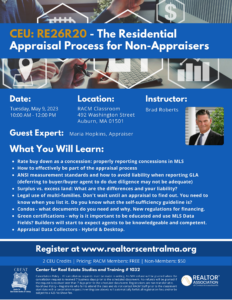 What You Will Learn:
Rate buy down as a concession: properly reporting concessions in MLS
How to effectively be part of the appraisal process
ANSI measurement standards and how to avoid liability when reporting GLA (deferring to buyer/buyer agent to do due diligence may not be adequate)
Surplus vs. excess land: What are the differences and your liability?
Legal use of multi-families. Don't wait until an appraisal to find out. You need to know when you list it. Do you know what the self-sufficiency guideline is?
Condos – what documents do you need and why. New regulations for financing.
Green certifications – why is it important to be educated and use MLS Data Fields? Builders will start to expect agents to be knowledgeable and competent.
Appraisal Data Collectors – Hybrid & Desktop.Learn more here: https://www.mass.gov/doc/re26r20-the-residential-appraisal-process/download

Cancellation Policy – All cancellation requests must be made in writing. A 50% refund will be granted when the cancellation request is received 7 business days prior to the scheduled class/event. No refunds will be granted if the request is received later than 7 days prior to the scheduled class/event. Registrations are non-transferable.No-Shows Policy – Registrants who fail to attend the class and do not contact RACM Staff prior to the class/event start date with a cancellation request in writing (see above), will automatically forfeit all registration fees and/or be subject to a $25 No-Show fee.

CREST Classroom Rules and Regulations – 
All cellular phones must be turned off or in silent mode so as not to disturb the class.

No more than 10 minutes of each class may be missed in order to still receive CEU credits. Late arrivals will not be given CEU credits for the class.

The Sign In and Sign Out sheets for each class attended must be signed to receive CEU credits.